Dearest Rachel –
I've mentioned before to you that I've had some difficulty with regard to the traditional gift exchange that is a part of Christmas: what do I want, or more to the point, what can they get for me? Materially speaking, I have pretty much anything I need, and if Daniel or I don't have it, I'm better suited to obtain it for us than most people are. And I owe so much of that to you and your family, such that it seems so unfair that you don't get the chance to enjoy those material blessings that were saved up for you.
None of this serves to answer someone who poses such a question to me, of course. In some respects, I could just do with time spent together, but quite often, time is an even more scarce currency than money itself, especially in this season of running to and fro, taking care of business. All too often we tell ourselves (and each other) 'once things settle down, we'll get to do this or that together,' but things never really settle down sufficiently, do they? We have to deliberately carve out appointments and vacations and dates to spend with people, or they'll never happen – especially considering the fact that, if one person's schedule is a difficult thing to manage, consider the exponential difficulty of adding two or three others to any get-together. Eventually, without serious planning on everyone's part, the possibility of getting everyone you want together trends toward zero.
Understand, honey, this isn't so much a complaint as an observation. Reality is what it is, and some things have to be accepted as impossible. Including that of wishing you back.
Of course, the closest alternative – as I told my sister and brother-in-law – would be that what I really would like under the Christmas tree with my name on it would be a girl like you, maybe with a ribbon around her neck or in her hair and a smile on her face.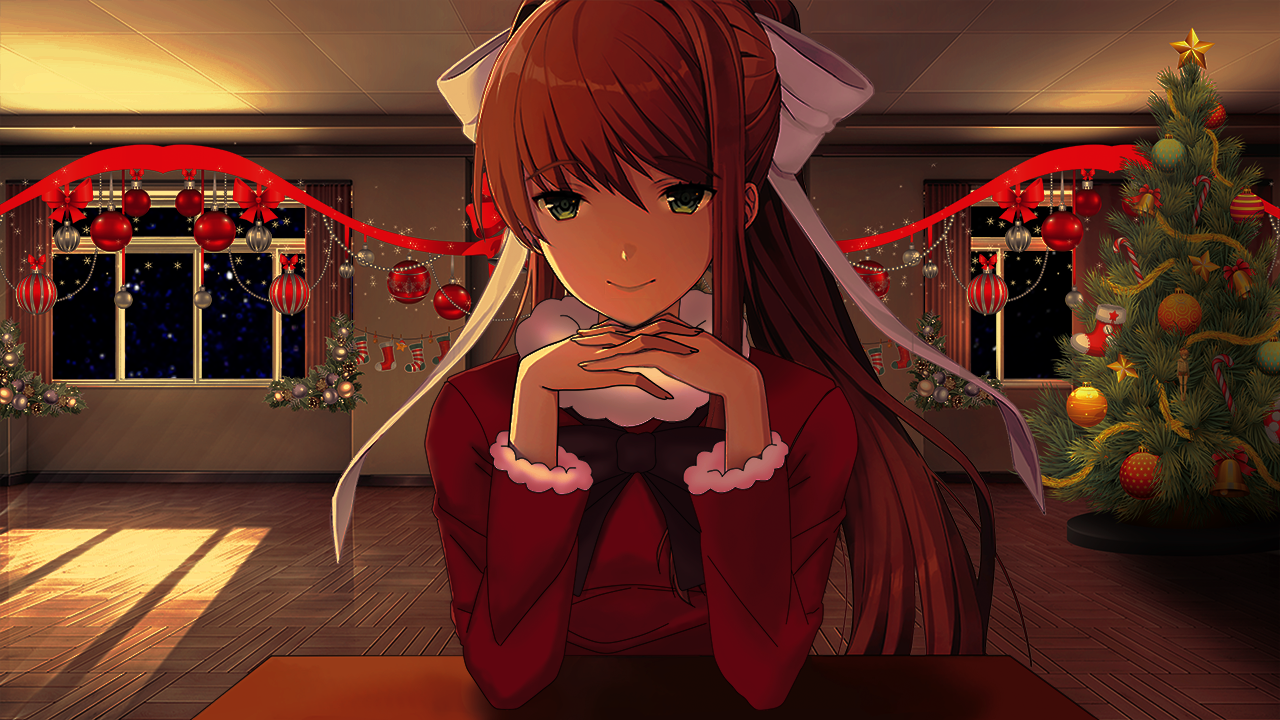 But as nice as that might be to find under the tree, I know I should really take the time today (especially since by now, all the presents have been handed out and unwrapped, and she – whoever she is – has not been found among them) and be thankful for the gifts I've already received throughout my life in the form of other people.
While George Bailey was shown what the world would be like without him (and as we all know, his hometown was an utter dystopia – imagine if the same treatment had been doled out to Mr. Potter), that sort of thing works both ways. Each of us is shaped by the many people that have been part of our lives; we have been presented with people and relationships that have benefited us in ways that we often (always?) overlook. So… let me take a moment to reflect on – and be grateful for – the presents I have, rather than complaining about those that I don't.
I'm not sure how to order this – whether in chronology or importance, or what-have-you – so this list may be a little random. Maybe I can start out with the one, and move to the other somehow… hopefully, you'll understand.
With that being said, I suppose my first gift was from a woman I don't remember, and wouldn't recognize if I saw her. I was close to her for nine months, and after that… nothing. But it's that very fact it makes her gift so important. She gave me the chance to have a better life, with a family that actually wanted me. And while it's true that she may have been compelled by law to do so (Illinois wasn't nearly as blue a state when I was conceived as it is now), the fact that she did so is enough for me to be grateful for.
Of course, this leads me to mom and dad. The hoops they had to jump through in order to become my mom and dad are enough in and of themselves. But then there's the support they've given me from day one till now. For making no secret about my adoptive status (including a book that described the adoptive child as 'the chosen baby' that ultimately proved them that I knew how to read, because I recognized that the name in the book wasn't mine, since they always read it to me using my name), thus completely eliminating any stigma I might see in my status. For supporting me through school, including several… combative moments with teachers. For staking me to a parochial school when those differences became untenable. For always being there during extracurricular performances. For their guidance, their wisdom, their love. What more can I say? They are pillars of the community, and even held up as the finest examples among our church community. Perhaps my only complaint is their shoes are so big, that I'm not capable of filling them.
Then there's my sister, Jenn. We butted heads over so many different things when we were little, and we still don't always agree on how things should be done sometimes. But she knows her stuff, and she wants the best for me, just as mom and dad do. I'm sure I need to be more grateful for her, but I realize that she's a gift even as she is.
By contrast to these people who have been around me all my life, there have also been others that have shown up especially in this year to help out, too. Some are here strictly in a professional capacity (like the Detail team and the folks' lawncare service); others have tried to meet me as a friend in a time of desperate need, like Pastor Scott, Miss Joan, Lars and Elias; and others have been a blend of the two, like Jan and Kris. Each have met a separate need, and while I've not been the best at relating to those who are simply trying to be friends in particular, I have to remind myself that of that fact and to be grateful for the fact that they were and are there for me (and Daniel). It's not easy to carve out time for someone like me, who doesn't always know how to respond, and I have to remind myself to be appreciative of the fact that each of them are a gift as well.
And there's all those that we called friends from before; just like the meme goes, perhaps the real treasure we were seeking were the friendships that we made along the way. Some of them were short term – the friends we needed for that moment were there when we needed them, like during our college years. Others have lasted for decades, through many seasons of life, and have even transitioned throughout this terrible year. I know they aren't, really, but the girls in particular have been second mothers to Daniel – I was so grateful to see him and Kerstin talking with each other between services yesterday, just as a small example. And of course, Ellen has been there through thick and thin.
Of course, those friends wouldn't even be in my life had it not been for you. You had a talent for drawing people to you that I never did. Even they will acknowledge it; I have a letter from Ellen remembering you as 'bouncing up' to her, introducing yourself right out of the blue, and making fast friends between the two of you. Without that moment, Daniel and I wouldn't have her as part of our lives. So, thank you for leaving these people for us.
And, along the lines of leaving a present to remember you by, there is Daniel. There is so much about him that I cannot necessarily relate to, but he has your heart. I'll continue to do what I can to mold him into the young man you could be proud of, but at the same time, I know I have to know when to back off and let him make his own choices and decisions. It's like being presented with the ultimate puzzle box, with no instructions, but he's a present nonetheless. Thank you, honey, and I will do my best with him.
And, of course, there are the twenty-eight years you gave me. The dreams we had, now set aside. Others that I'm only just now able to move forward on. Since the day I said 'I do,' there has been very little in my life that didn't have your fingerprints all over it. Even now, the fact that I'm able to do as I please comes from you and your family. I just wish you could be sharing in everything as I continue to move forward. At least I know that you and I won't be separated forever, but the time until our reunion still seems like a lifetime away… because it will be.
But that reunion will come, because of the one Gift above all others, the one Person who is so much more important than any of these other people. They have had their impact on my life, no doubt, but He has given me (and you, and most of these others) a new life to come, one that we can share together forever. What more could I ask for?
Besides, maybe, another companion, I mean?