Dearest Rachel –
It's not the sort of thing you enjoyed doing; indeed, it had been left undone at our house at the time of the accident (and as a result, was not dealt with for several months thereafter), but the folks are a little more punctual about things like this, and so, Daniel and I were recruited to take their tree down, now that the holidays are over. We had been asked if we could do so yesterday, but given some of the craziness that went down yesterday, we were given something of a pass. In fact, Dad actually went so far as to even give us an out for today if things were still icy and slippery; but honestly, there didn't seem to be any reasonable cause to put things off any longer. We'd been out and about in the worst of it before; today was hardly the sort to cause one to look outside and go, "Yeah, this is worse, I'd better stay safe and stay home."
And so, after sleeping in a bit and taking a little extra time to have breakfast together (I'm going to have to restock our freezer with breakfast Hot Pockets now), Daniel and I were off to the folks' place. This wasn't going to be a typical day at the office; in fact, we'd probably be leaving once we were done with whatever the folks needed doing in the living room. But to be honest, it's the kind of day when I (and really, we) would be spending much more time with them directly than on a typical full day in the 'office.' And that's what mattered today.
I've not tried to document how a tree is taken down before; to a certain extent, it's presumably a routine procedure, hardly worth commenting on. On the other hand, it's something that's only done once a year (like making the breakfast soufflé), and it's not always a task that the two of us have been involved with, so maybe it wouldn't hurt to record the process for future reference. After all, who's to say this won't be something we'll need to do in the future (and maybe in reverse come the days after Thanksgiving)?
So let's start with taking a look at the completed tree in its fully constructed state:
I should pause here, and mention that (not that I need to remind you) our family has dealt with artificial trees for as long as I can remember; even my grandparents had artificial trees. That may be a byproduct of both Dad and his dad working at Sears when I was a little kid (and our trees being from there as a result – of course, none of those Sears trees have survived to the present, but they lasted a very long time), or it may be that it's more likely in an urban or suburban setting compared to your more rural upbringing. In any event, our Christmas tree experience has always been different from yours in that respect. And I can't really explain how things worked for you with regard to setting up and taking down an actual tree – which I would expect to differ from year to year, sometimes quite radically (I still remember the tree your dad built that was meant to be suspended from the ceiling, upside down. That had to be a challenge to put together and take apart).
Anyway, our responsibility here was to take this thing apart into the three sections that it was composed of, and put them away in to their respective boxes.
Once everything was put away, and the lids snapped shut, we had to take it all downstairs. I couldn't help thinking we were just missing the electronic music.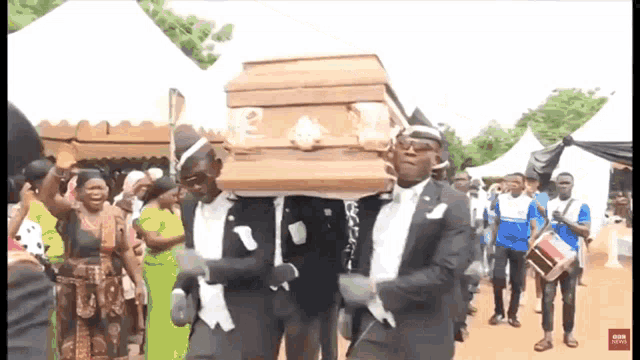 Fortunately, they were light enough that it just required the two of us; I've actually been able to move any one of them on my own in the past when absolutely necessary, but you could see from the look of them that would be a rather awkward proposition; it worked out well for the two of us to combine forces to get them downstairs and in storage by Dad's old workbench area.
I knew it was going to be a relatively quick task, but I had no idea just how quick…
We did stick around for an hour thereafter or so; it's hard to resist Mom's hot chocolate. Dad was talking about old friends he'd managed to get in touch with over the holidays (I think some of the conversation started with them having gone through old photographs left by his brother's widow, and trying to decide what to do with them now that she was gone as well – for what it's worth, you've been joined by a lot of our extended family up there recently, so I'm sure you're making friends), and other news along those lines.
But once everything was taken care of, I acknowledged that we wouldn't stick around in the office, boring Daniel out of his mind. Besides, we needed to do some shopping (including filling my gas tank) and get going early enough to go eat before heading to Sparks tonight. Not the most full dance card I've ever had, but enough to attend to.
That, and I needed to fill you in on at all. So, here's a story. Hope you've enjoyed it.
Anyway, got to get going; keep an eye out for us, honey.